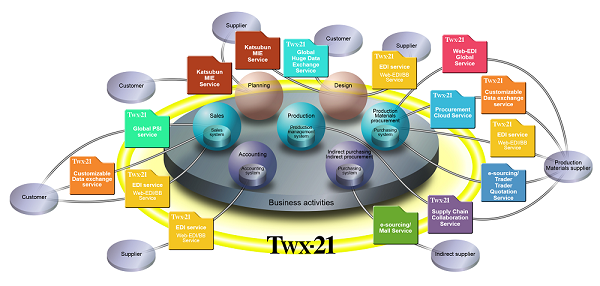 Enlarge image
In this era of globalization and change, flexible business collaboration with a large number of partners has become more and more important for companies, and the need has increased for the quick construction of systems for sharing information with multiple companies. Hitachi's TWX-21 is a business media service that has provided an internet-based platform for business transactions to approximately 66,000 customers over the course of more than 20 years. On this TWX-21 service platform, Hitachi provides detailed application services (business SaaS) related to each customer's business activities, based on factors such as the customer's industry, role, and users. With only an internet connection and a browser environment, users inside and outside Japan can choose from among a wide variety of business SaaS applications that enable collaboration in areas such as design, procurement, production, and sales.
SaaS: Software as a Service
TWX-21 can help you reduce your operating costs by providing operation support, such as help desks for customers both inside and outside Japan. TWX-21 has developed a cyclical ecosystem by continuously expanding the available services based on customer needs, and by linking these services to global standardization activities. This enables us to continually provide the most up-to-date service features.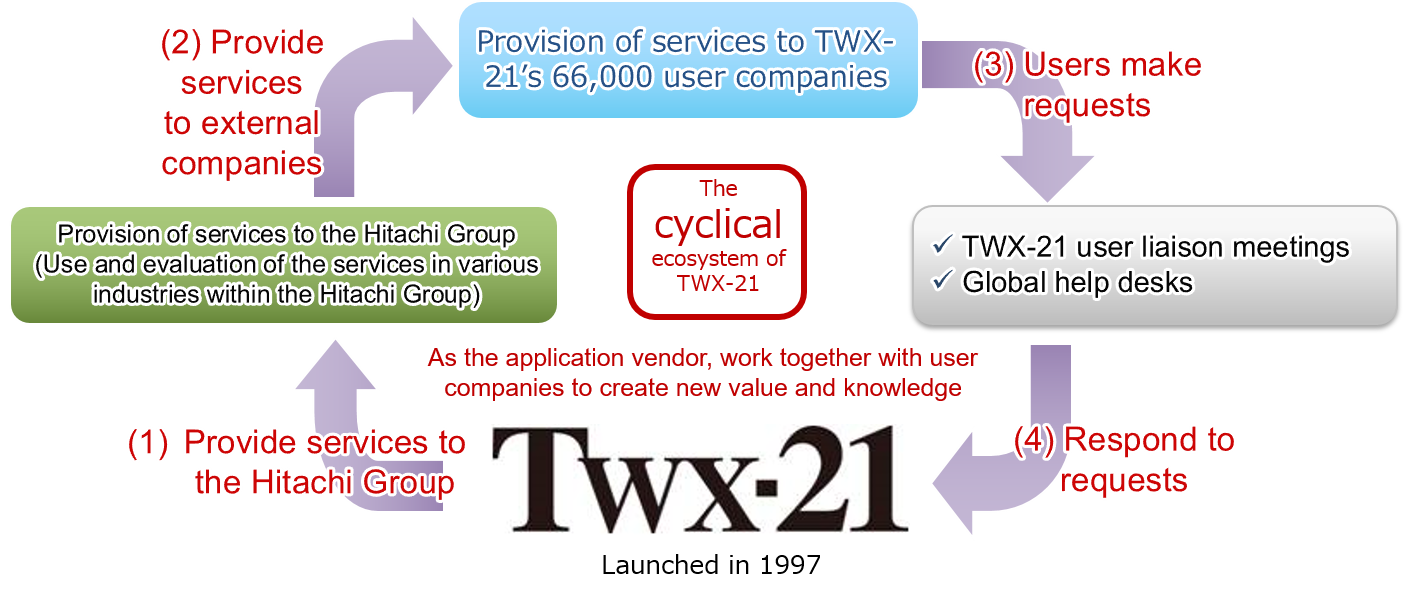 (1) N:M-type multi-tenancy, to increase the speed and efficiency of business development
Multiple buyer companies can use the same interface and operations to conduct business.
New buyer companies can immediately start conducting business with suppliers who are already using the service.
(2) Selection of services based on user roles and permissions, to help ensure compliance
Services can be selected for use by an individual, a division, or an entire company, based on the necessary permissions, transactions, functions, and displayed information.
(3) Individual customization for each user, to provide flexible usability
Customization can be performed per transaction (led by the buyer), per supplier, or per individual.
Through high-speed global internet services, TWX-21 provides an easy-to-use communication environment for business collaboration among business sites all over the world. Through collaboration with our business partners, we can also provide various platforms that are indispensable for network businesses. In addition, TWX-21 provides multilingual* services to support the expansion of business collaboration on a global scale.
*

Services are available in English, Chinese, and Japanese.